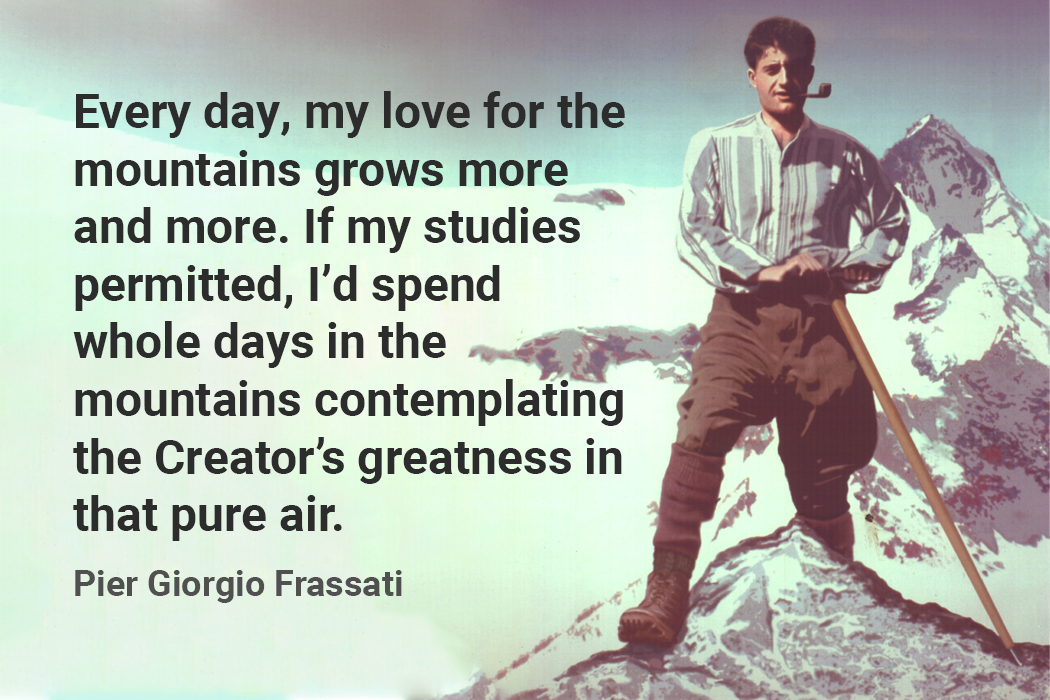 Charity
1. In a world gone astray from God there is no peace, but it also lacks charity, which is true and perfect love.
2. Nothing is more beautiful than love. Indeed, faith and hope will end when we die, whereas love, that is, charity, will last for eternity; if anything, I think it will be even more alive in the next life!
Church
3. The times we are going through are difficult because cruel persecution of the Church is raging. But you bold and good young people should not be afraid of this small thing; remember that the Church is a divine institution and cannot come to an end. She will last till the end of the world. Not even the gates of hell can prevail against her.
4. I hope that by the grace of God I will continue to follow these Catholic ideals so that one day, in the way God wishes, I will be able to preserve and promote these truths.
Eucharist
5. Jesus who, because of infinite love for humanity, wanted to be in the Sacrament of the Eucharist, as our Consoler and as Bread of the Soul.
6. When you are totally consumed by the Eucharistic fire, then you will be able more consciously to thank God, who has called you to become part of His family.
7. Jesus is with me. I have nothing to fear.
Gossip
8. There is no need to pay attention to gossip, much less get ill by giving in to those who perhaps have never known what truth is.
Happiness
9. True happiness does not consist in the pleasures of this world, or in earthly things, but in peace of conscience, which we only have if we are pure of heart and mind.
10. Every day that passes, I fall more desperately in love with the mountains… I am ever more determined to climb the mountains, to scale the mighty peaks, to feel that pure joy which can only be felt in the mountains.
11. Every day, my love for the mountains grows more and more. If my studies permitted, I'd spend whole days in the mountains contemplating the Creator's greatness in that pure air.
12. Foolish is he who follows the pleasures of this world, because these are always fleeting and bring much pain. The only true pleasure is that which comes to us through faith.
13. A Catholic cannot help but be happy; sadness should be banished from their souls. Suffering is not sadness, which is the worst disease. This disease is almost always caused by atheism, but the end for which we are created guides us along life's pathway, which may be strewn with thorns, but is not sad. It is happy even through suffering.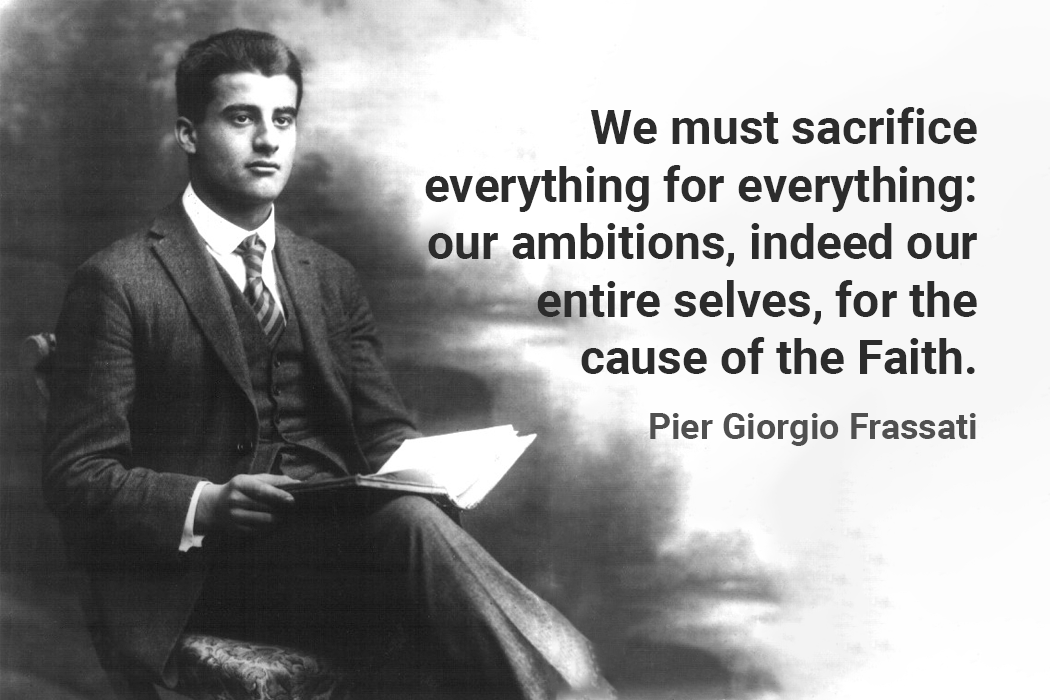 Holiness
14. All around the sick and all around the poor I see a special light which we do not have.
15. What wealth it is to be in good health, as we are! We have the duty of putting our health at the service of those who do not have it.
16. Learn to be stronger in spirit than in your muscles. If you are, you will be real apostles of faith in God.
17. The faith given to me in baptism suggests to me surely: by yourself you will do nothing, but if you have God as the center of all your action, then you will reach the goal.
18. We must sacrifice everything for everything: our ambitions, indeed our entire selves, for the cause of the Faith.
19. To live without faith, without a heritage to defend, without battling constantly for truth, is not to live but to 'get along'; we must never just 'get along'.
20. May peace reign in your soul… any other gift we possess in this life is vanity, just as all the things of this world are vain.
Hope
21. When God is with us, we don't have to be afraid of anything.
22. I think peace will be a long time coming. But our faith teaches us that we must always keep on hoping we shall enjoy it one day.
23. With every day that passes, I grow more and more convinced how ugly the world is, of how much suffering there is, and, unfortunately, of how it is the good who suffer the most. Meanwhile, we who have been given so many of God's blessings have repaid Him poorly. This is an awful reality that racks my brain; while I'm studying, every so often I ask myself: will I continue on the right path? Will I have the strength to persevere all the way? In the face of this pang of doubt, the faith given to me in Baptism reassures me of this: by yourself, you will accomplish nothing, but if you place God at the center of all your actions, then you will reach the goal.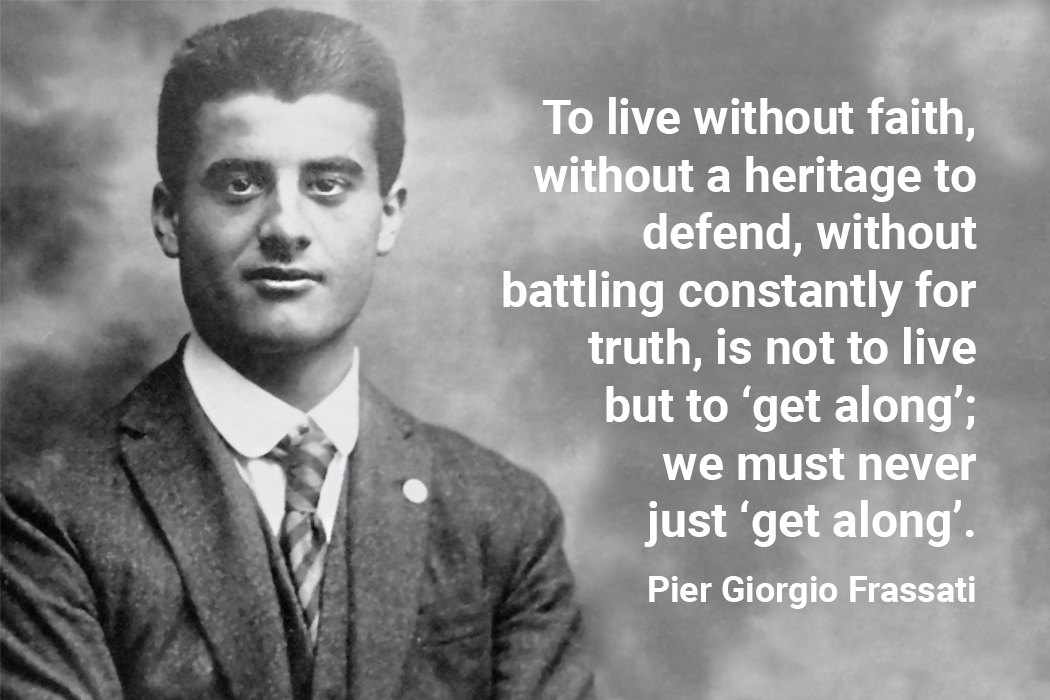 Prayer
24. In prayer the soul rises above life's sadnesses.
25. I beg you to pray for me a little, so that God may give me an iron will that does not bend and does not fail in his projects.
Providence
26. In God's marvelous plan, Divine Providence often uses the tiniest twigs to do good works.
Purpose
27. We who, by the grace of God, are Catholics, must not squander the best years of our lives as so many unhappy young people do, who worry about enjoying the good things in life, things that do not in fact bring any good, but rather the fruit of immorality in today's world.
28. Modern society is drowning in the sorrows of human passions and it is distancing itself from every ideal of love and peace. Catholics, we and you, must bring the breath of goodness that can only spring from faith in Christ.
29. It is a difficult battle, but we must strive to win it and to rediscover our small road to Damascus in order to walk toward the destination to which we all must arrive.
Suffering
30. What is clear is that faith is the only anchor of salvation and we must hold tightly to it: without it, what would our lives be? Nothing, or rather, wasted, because in life there is only suffering, and suffering without faith is unbearable. But suffering that is nourished by the flame of faith becomes something beautiful, because it tempers the soul to deal with suffering.
31. Our life, in order to be Christian, has to be a continual renunciation, a continual sacrifice. But this is not difficult, if one thinks what these few years passed in suffering are, compared with eternal happiness where joy will have no measure or end, and where we shall have unimaginable peace.
32. Faith enables us to bear the thorns with which our life is woven.
Subscribe to our Newsletter
Sign up to receive our fortnightly email with our latest news, features and events…