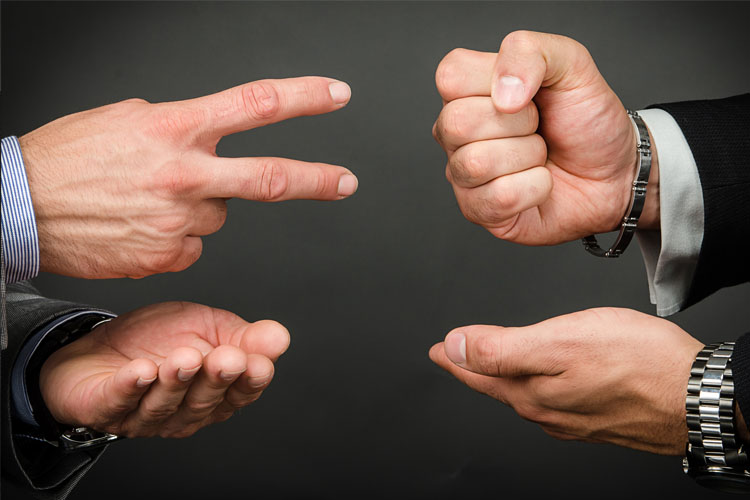 Theme

General

Age Range

7-18

Type

Games

Number of Participants

10+

Timescale

1-5 minutes
Quick overview
Rock/Paper/Scissors on a large scale with a twist. Every time someone loses a game, they must then become the winners cheering supporter.
Supplies you'll need
None
Game run-through
Begin the game by getting everyone to stand in a large circle around you. This will allow you to have their full attention.
Explain that the next activity is going to be rock/paper/scissors with a twist. The twist will be that once you have had a round against someone, the winner will go to find someone else to challenge while the loser will from now on become their supporter. The supporter must follow the winner around the chanting their name, clapping and cheering for them etc.
When someone loses a round, not only they will have to follow the winner. If the looser had any followers of their own, these followers also must now follow the new winner. This will result in fewer and fewer active players as the game goes on, while you will have more and more people clapping and cheering.
An active player cannot challenge someone who has already been beaten.
Eventually there will only be one person standing, this person is champion for this game.
Additionally, you may like to clarify when to pull either rock, paper or scissors. There are several ways of doing it and the easiest way we've found is 'rock, paper, scissors, show' and having people pull their move on 'show'. While not necessary to clarify it does help with making it run smoother.
To be aware of
 This game is very noisy and can be distressing for some young people who are sensitive to sound. Two groups of young people to be particularly aware of in regards to this are those who are on the autistic spectrum and young people with down's syndrome. While it won't be an issue for all who identify in these categories, it can be a very large issue for others.